Ultra Tour des Sources (UTDS)
Description of the trail
Start
Spa Tourist Information Office (city centre)
Stoumont Public library (centre of the village)
Jalhay-Sart Tourist Information Office (Place de Sart)
Stavelot Tourist Information Centre (city centre - abbey)
Theux Tourist Information Office (city centre)
Trois-Ponts Tourist Information Office (city centre)
Malmedy Tourist Information Office (city centre - Malmundarium)
Robertville dam car park (Waimes)
Accessibility
Unless indicated otherwise, the UTDS is open between the 1st of January and the 15th of September every year.
During the hunting season (15th of September – 31st December, unless exceptionally extended by the competent ministry), the Ultra Tour des Sources is not accessible. You are asked not to enter the forest between 5pm and 10am.
During this period, some sections may be completely closed due to culling.
For your safety and to respect the fauna, flora and other forest users, never take a route that is closed for hunting or logging.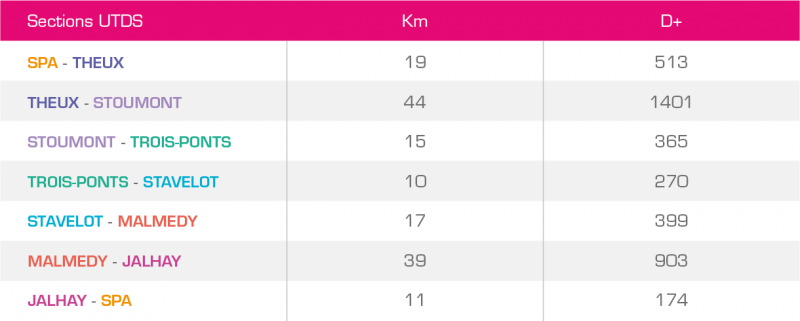 Advice
Food and drinks essential.
Mobile phone essential.
Survival blanket and whistle recommended.
Headlamp and spare batteries essential.
Technical equipment adapted to the variable weather conditions (warm and waterproof clothing) essential.
This route is very technical: roots and stones may be extremely slippery when conditions are humid.
Perfect knowledge of your sporting and physical abilities is required for a challenge that may be particularly demanding on your body. Never commit to such a distance without preparation and without undergoing a medical check.
The route crosses part of the Fagne. Climatic conditions can be very changeable. Never stray from the marked route, especially during fog or snow. Check the accessibility (red flag) of the Hautes Fagnes Nature Reserve.