Hunts 2023
(UPDATE OF 25/10/2023)
Please see the tables below that indicate the battue dates, during which the EXTRATRAIL routes marked with a cross will be closed (X = trail closed).
NOTE
Only the signage displayed in the forest is official.
Never use a route if this is prohibited by a sign.
For your safety, please respect the signage in the forest (see information here).
Yellow sign

= information

Red sign

= restriction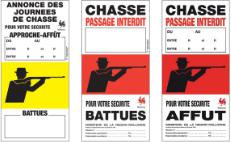 Info UTDS :
The route of the Ultra Tour des
Sources (UTDS) is closed annually from 09/15 to 12/31.
In addition to the battue dates shown in the tables below, we draw your attention to the fact that, every day from 15/09 to 31/12, EXTRATRAIL routes are potentially inaccessible at sunset and sunrise due to hunting during this period.
Bans on access during hunting season are indicated with red regulatory notices at the entrances to the forest area.
We advise the use of trails during the day.
This warning is intended to avoid disturbing wildlife and ensure your safety.
As it is not the source of this information, EXTRATRAIL may not be held liable for inaccurate information, or if the dates and locations of the hunts change.

It should also be noted that several hunters have still not announced their hunt dates.
Note: caution and respect for signs placed in the forest by the hunters, in accordance with current regulations, is essential.
Schedule
OF TRAIL CLOSURES
The black route of Jalhay and the Ultra Tour des Sources (UTDS) are closed annually from 15/09 to 31/12.
closing days

Trails




green

Trails




blue

Trails




red

Trails




black

Connection


Spa
Stoumont

Connection


Spa
Jalhay

Connection


Spa
Theux

Connection


Spa
Stavelot

Wed

25-10-23

Thu

26-10-23

Fri

27-10-23

Sun

29-10-23

Fri

03-11-23

Sat

04-11-23

Tue

07-11-23

Wed

08-11-23

Fri

17-11-23

Tue

21-11-23

Wed

22-11-23

Fri

24-11-23

Mon

04-12-23

Fri

08-12-23

Sat

16-12-23

Mon

18-12-23

Tue

19-12-23

Wed

20-12-23

Tue

26-12-23
closing days

Trails




green

Trails




blue

Trails




red

Trails




black

Connection


Stoumont
Spa

Connection


Stoumont
Stavelot

Connection


Theux
Stoumont

Connection


Stoumont
Theux

Wed

25-10-23

Fri

27-10-23

Sat

28-10-23

Sun

29-10-23

Mon

30-10-23

Sun

05-11-23

Tue

07-11-23

Wed

08-11-23

Fri

10-11-23

Mon

13-11-23

Tue

14-11-23

Fri

17-11-23

Sat

18-11-23

Mon

20-11-23

Wed

22-11-23

Sat

25-11-23

Tue

28-11-23

Sat

02-12-23

Fri

08-12-23

Sat

09-12-23

Tue

12-12-23

Fri

15-12-23

Mon

18-12-23

Wed

20-12-23

Fri

22-12-23
closing days

Trails




green

Trails




blue

Trails




red

Trails




black

Connection


Stavelot
Stoumont

Connection


Stavelot
Malmedy

Connection


Stavelot
Spa

Sat

28-10-23

Sun

29-10-23

Mon

30-10-23

Tue

31-10-23

Wed

01-11-23

Tue

07-11-23

Wed

08-11-23

Sun

12-11-23

Fri

17-11-23

Thu

23-11-23

Sun

26-11-23

Wed

29-11-23

Thu

30-11-23

Fri

01-12-23

Sat

02-12-23

Wed

06-12-23

Sat

09-12-23

Mon

11-12-23

Tue

12-12-23

Thu

14-12-23

Mon

18-12-23

Thu

21-12-23

Sat

20-01-24

Tue

09-01-24
closing days

Trails




green

Trails




blue

Trails




red

Trails




black

Connection


Jalhay
Spa

Connection


Jalhay
Malmedy

Wed

25-10-23

Thu

26-10-23

Mon

30-10-23

Tue

31-10-23

Tue

14-11-23

Wed

15-11-23

Fri

17-11-23

Tue

21-11-23

Wed

22-11-23

Thu

23-11-23

Mon

27-11-23

Mon

04-12-23

Tue

05-12-23

Fri

08-12-23

Wed

13-12-23

Thu

14-12-23

Fri

15-12-23

Tue

19-12-23

Wed

27-12-23
closing days

Trails




green

Trails




blue

Trails




red

Trails




black

Connection


Theux
Stoumont

Connection


Stoumont
Theux

Connection


Theux
Spa

Thu

26-10-23

Sat

28-10-23

Tue

31-10-23

Tue

07-11-23

Fri

10-11-23

Tue

14-11-23

Sat

18-11-23

Sun

19-11-23

Tue

21-11-23

Sat

25-11-23

Sat

02-12-23

Mon

04-12-23

Tue

12-12-23

Fri

15-12-23

Tue

19-12-23

Thu

21-12-23

Tue

26-12-23
closing days

Trails




green

Trails




blue

Trails




red

Trails




black

Connection


Trois-Ponts
Stavelot
(Wannerenval)

Sat

28-10-23

Wed

01-11-23

Mon

06-11-23

Fri

10-11-23

Sat

11-11-23

Sat

18-11-23

Mon

20-11-23

Tue

21-11-23

Thu

23-11-23

Fri

24-11-23

Fri

01-12-23

Sat

02-12-23

Mon

04-12-23

Sun

10-12-23

Mon

11-12-23

Sat

16-12-23

Mon

18-12-23

Wed

20-12-23

Thu

21-12-23

Tue

26-12-23

Thu

28-12-23

Sat

30-12-23
closing days

Trails




green

Trails




blue

Trails




red

Trails




black

Connection


Malmedy
Jalhay

Connection


Malmedy
Stavelot

Wed

25-10-23

Mon

30-10-23

Fri

03-11-23

Sat

04-11-23

Wed

08-11-23

Fri

10-11-23

Sat

11-11-23

Wed

15-11-23

Fri

17-11-23

Tue

21-11-23

Wed

22-11-23

Thu

23-11-23

Wed

29-11-23

Thu

07-12-23

Fri

08-12-23

Mon

11-12-23

Wed

13-12-23

Thu

14-12-23

Tue

19-12-23

Fri

29-12-23

Fri

20-01-23